Online Tools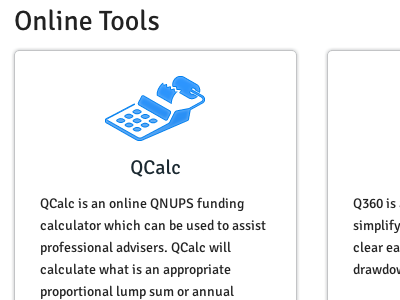 The QROPS Bureau's objective is to give an adviser access to all of the resources they need to write offshore pensions business in a low risk, compliant manner.
This is why we have given our members access at discounted rates to a number of on line tools which will assist you in transacting offshore pensions business. The on line tools are provided by Q Tech Solutions in Guernsey - see Associated Services for details. The on line tools include:
Funding reports for QNUPS business - Q Calc
It is crucial when establishing a QNUPS that the primary motive is pensions planning. The QROPS Bureau advocate using a funding calculation to show any shortfall in pension funding and the contribution necessary to meet this shortfall. Calculations are available on line to allow a report to be generated to support any contributions.
QROPS/QNUPS illustrations -Q360
These allow a professional adviser to illustrate the GAD suggested projected or actual achievable income from a QROPS or QNUPS pension fund over a selected period. This facility has recently been enhanced to provide a full new business report on request.
Critical Yield Analysis - Q Crit
This allows the adviser to perform a "first-look" analysis of the impact of transferring from a final salary scheme to a QROPS or other money purchase arrangement.
Please note that the output from these illustrations is dependent upon the details input. Therefore The QROPS Bureau are not responsible for the content of the output.
Online Tools Available
Become a member for as little as £25/month
Dedicated support phone line and direct access to our technical staff
10% discount on all reports
Join today